The 24th edition of the international design Biennale INTERIEUR is first of all an exhibition platform for brands who define their image with design and the use of designers. Ever since 1968, the Biennale has successfully combined culture and commerce, a symbiosis which will enjoy additional prominence this year at the XPO Kortrijk (B) venue. The organisers, the notfor-profit Biennale Interieur vzw, expect exhibitors to feature high quality, functional products as well as materials, forms, trends and looks which translate into a coherent vision about the design of interiors, as well as a contemporary interpretation of inherited know-how about aesthetics, craft and industrial production.
An early overview of participating companies indicates the 2014 edition may well offer a more decorative Biennale than usual, with form and content no longer within strict minimalist lines, but manipulating that approach and linking it to fashion, food, music, sport and work-fromhome…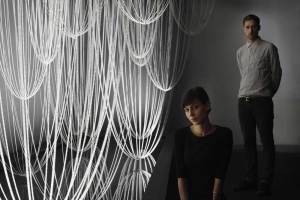 Concepts play with new interpretations of post-war modern classics with high recognition value. Timeless design is a favourite, but confronted here with new functional approaches such as lightness and technology for the interior. Many exhibitors are stepping outside their traditional catalogue and advertising offer this year, or engage young designers, fashion and food specialists in order to create fruitful cross-fertilisations.
Some examples:
Italian company Lago (lago.it) transcend the confines of their stand to incorporate gangways into their 'new table happening'. The expansion drive of Obumex (obumex.be) results this year in an optimised kitchen concept by Sergio Herman, a cooperation with Pro-Memoria featuring the usual aesthetic surprises. Alessi (alessi.com) explore the essence of their craft with an A to Z exhibition illustrating the genesis of some of their best-known products. British designer and futurist Ross Lovegrove is his usual self with his presentation of the new Barrisol (barrisol.com) stretched ceilings, promising a not-to-be-missed display. Top specialists in baseboards, wall, crown and ceiling mouldings Orac (oracdecor.be) are magicians in interior finishes, while Antonio Citterio will be on-site to personally introduce his new line of Axor (hansgrohe.co.uk) taps and mixers. Hip Portuguese brand LZF (lzflamps.com) show how poetic and unambiguous decorative lighting can be achieved with elegant wooden curves. The 'Touch of steel' pop-up illustrates the new potential for steel in objects and jewellery, produced by young Belgian and German designers and artists.
Newcomers Piure (piure.de) show a pure sense of aesthetics with their wardrobes and dressers in walnut and lacquer. Durlet (durlet.be) highlight their red-dot winner Alain Monnens with colour and seating novelties. Historic knowledge, glass aesthetics and craft are among the trumps of Czech company Brokis (brokis.cz), who are showing hand-blown glass anno 2014. Dutch exhibitor Rizz (rizz.nl) came up with a snappy collection for entrance halls, and newcomer Verzelloni (verzelloni.it) show a fresh dresser collection and a varied collection of sofas. Vitra (vitra.com) will present its recent marriage to Artek (artek.fi) in a remarkable way, amongst others with the new Riva chair by Konstantin Grcic, who will soon get a retrospective in Belgium. Italian brand Moroso (moroso.it) will also surprise INTERIEUR 2014 with an avant-garde vision and new designs by Martino Gamper, Tord Boontje, Ross Lovegrove and Patricia Urquiola. Patricia Moroso proves that Moroso is alive and kicking and innovative. She leaves her quote on the influential blog Dezeen that "Milan is stuck in the past and Italy is losing culture behind production" far behind her with her new approach. Kvadrat (kvadrat.dk) took four Belgians under its wings to develop, present and pimp new upholstery fabrics, that is Raf Simons, man behind the magic of Dior, architect Glenn Sestig and duo Fien Muller-Hannes Van Severen.
Last but not least, the unsurpassed Danish company &Tradition (andtradition.com) promise a whole range of novelties and will furnish a pop-up restaurant in hall 2 of Kortrijk Xpo, which will surprise the Interieur visitors with Scandinavian culinary delights. Bon appétit!